German Auto Transmission Maintenance Made Easy for Birmingham Drivers
Whether your car is an automatic or a manual transmission, taking care of your transmission is essential to enjoying better performance and a longer lifespan from your car. Depending on how you drive, your transmission can be prone to issues like faster wear & tear. If your transmission suffers any damages, it can be catastrophic to the overall health of your car. At Momentum Motorworks our certified mechanics keep your car on track with maintenance so that your transmission continues to power the superior performance you rely on. For over 20 years we've helped German auto owners all throughout the Birmingham area.
German Auto
Specialists
At Momentum Motorworks, our ASE certified technicians have decades of experience working with all models of:
Our facility uses all the latest factory-grade tools & equipment available to ensure fast, accurate services for your car's transmission no matter what the issues may be. With 5 certified master technicians on staff & every mechanic ASE certified, you're guaranteed the best possible service for your car.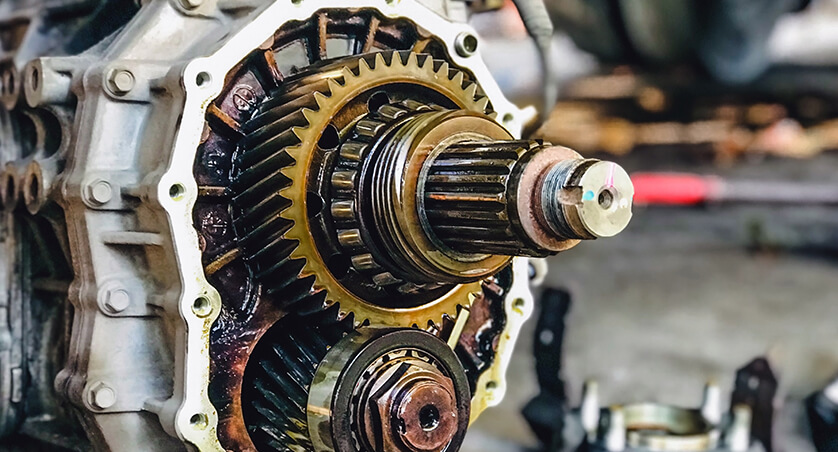 Signs of a Slipping Transmission
As the miles add up, the components in your transmission will begin to show signs of wear & tear. Some important signs to look for that your transmission is wearing out include:
Slow or delayed acceleration
Difficulties shifting gears
Car won't go in reverse
Burning smells
Engine chugs
Pushing through any of these warning signs can continue to cause serious issues throughout car. When you visit Momentum Motorworks, our mechanics will work with you to make a service schedule for your car's transmission that fits your schedule & your car's needs. The result is preventative maintenance that helps keep your car performing right without the need for expensive, extended repairs.
Call or Visit

Our Shop Today

A slipping transmission is no joke and for over 20 years, drivers throughout the Birmingham area have trusted Momentum Motorworks to help with their German car's service needs, including complete transmission maintenance. Our commitment to quality & friendly customer service has also made us the go-to shop for drivers in surrounding areas including:

If your transmission is showing signs of slipping or to schedule routine maintenance for your car, please call or visit our shop today to speak with one of our friendly technicians.
I have had my Porsche serviced by Carl at Momentum for over 10 years, I won't take my car anywhere else.

Great place to have maintenance performed on your car. In and out in a very timely manner. Very friendly staff.

Sparks was very professional and prompt in the diagnosis and repair.

Great experience. Very professional and polite. Will definitely use Momentum Motorworks again.

If I ever need you I will not hesitate to get there ASAP.

They made me feel like I was a regular customer - very friendly and engaging.

Truly amazing service every time! The only place I'll ever take my vehicle for any routine or emergency maintenance! I highly recommend

The staff and front desk person were very friendly, courteous, and attuned to what I needed done.

Truly amazing service every time! The only place I'll ever take my vehicle for any routine or emergency maintenance! I highly recommend

Matt and the team at Momentum went above and beyond to get my M5 back on the road at a reasonable price.

BMW Fuel pump, brakes, emergency brake cable bracket - 48 hours!

dwesterfield dwesterfield

Great service as always. I've been using these guys for years. Excellent work in the past on my BMW's and now on my Porsche 911.

Momentum has maintained several BMWs for me over the last 10 years. I'm always happy when I leave.

Thank you so much for always serving my cars & great customer services. I broke my hood latch trying to let up my hood.

Momentum is great. Sparks and the team are extremely knowledgeable and very good communicators.

Thoroughly impressed with my recent experience with Momentum's staff & service.

Great job and good prices compared to dealer. Momentum IS the go-to for your German automobiles hands down. 5 Stars all the way.

Still Great people, great service. we are back for another scheduled service.

Fast , very reasonably priced, professional & knowledgeable. Very glad to have found them

Sparks and the staff at Momentum were great to work with and told me upfront the approximate price for services rendered.

Always professional, high quality work performed at a fair price.

The whole experience at Momentum is wonderful. The customer service is very pleasant, and the technicians are wonderful!

Thank you all for being so professional and friendly...and when I pick up my vehicle from repair both my automobile and myself are happy campers....High Five to Momentum!

Extremely pleased with the entire experience at Momentum Motorworks. Staff is professional, honest, and fast!

Great service, outstanding professionalism

Great place for car service. Thanks.

Professional, yet friendly, service from drop off to pick up. A top notch facility, it impossible not to be impressed.

I have used Momentum for several years & have enjoyed a great experience & relationship with them.

They did a great job at a great price!!

Sparks DeMent and Momentum Motorworks surprised me and in a good way! The oil reservoir gasket was also leaking.

The work they performed has always been high quality work. Honest information about your car. They show caring work as well. Etc.

Fast, accurate, professional. Carl kept me up to date during the repair process

The entire staff was awesome! Matt made certain no stone was left unturned. Five stars is the least given because they deserve 10.Toya

In and out in no time. So glad to work with Momentum for two BMWs we own. Thanks to all Again.

Awesome place they are professional, and fast !

Super fast, excellent attention to detail! Best import repair service in the entire state!

Great service and always top quality work.

Matt did a great job helping me deal with an automobile issue during a transitional period that helped me tremendously.

The team at Momentum is exceptional. They are friendly, professional and when they tell you something, they mean it.

Consistently superior service! My BMW is always serviced in a timely and cost efficient manner.

Technician did a thorough job and explained in great detail the before and after improvementS to my Vehicle.

Mary and Mark are the Best! Had me in and out...💋

Sparks took care of my car. The repairs got done at a reasonable price.

Awesome customer service!

Good service, very detailed and nicely explained.

Clear explanation of the reason for the service and what would be performed. Loaners help with transportation while doing repairs.

Excellent service; quality work; friendly and professional staff

As always...Momentum staff rocks!

They did the job quickly and well. They found another problem other than what it was in for and informed with my options and cost.