Audi is a German automotive brand headquartered in Ingolstadt, Germany. They produce some of the most luxurious automobiles worldwide. While Audi is known for its high performance and exceptional comforts and amenities, there are factors that can cause an engine misfire in your Audi.
An engine misfire occurs when the cylinders fail to produce enough power, resulting in incomplete combustion inside at least one cylinder head. As a driver, if your vehicle experiences engine misfire you may notice:
vehicle hesitation
vehicle shaking
What causes an engine misfire?
There are several factors associated with engine misfire in Audis from failing spark plugs to faulty sensors. Below are the most commonly reported causes of engine misfire among Audi drivers and experts.
Ignition system problems
The Audis ignition system is responsible for the actual combustion process that ignites a spark resulting in the engine starting. Ignition system failure is a gradual problem that occurs over time rather than producing immediate symptoms.
The main sources of engine misfire caused by an ignition system problem are:
ignition coil failure
one or more failed spark plug
ignition cable failure
a faulty distributor cap
Improper air/fuel mixture
Many parts work together to produce the perfect air/fuel ratio within the combustion chamber of your Audi. A proper air/fuel mixture is ignited by the spark plugs allowing the engine to start. Several things can throw off the air/fuel mixture resulting in engine misfire including:
fuel pump failure
a clogged or dirty fuel filter
damage to the oxygen sensor
Transmission issues
Problems within the transmission system are the cause of several issues within Audis including engine misfire. If you experience engine misfire in addition to trouble shifting gears, this is an obvious sign that the transmission system is associated with the misfire. It is important to have your vehicle inspected thoroughly as soon as possible to avoid costly damage to both the transmission and engine.
Engine control module problems
Modern vehicles are equipped with smart features including an onboard computer designed to communicate with the various control modules throughout your Audi to ensure all parts are working as designed. The Engine Control Module (ECM) is the main control module designed to control the function of the engine itself.
With the modern technology in Audis, technical issues may arise. These issues may include a miscommunication among the control modules, specifically the ECM, resulting in an engine misfire. Experts recommend having your vehicle brought to an Audi expert for a diagnostic inspection to prevent total engine failure.
Engine Misfire Symptoms
There are several tell-tale signs of engine misfire including:
a loss of engine power
trouble starting the engine
an increase in fuel consumption
odd noises, such as popping sounds from the engine
exhaust backfires
engine jerking, vibrations, or stalling
an increase in emissions
Momentum Motorworks Can Help
German automobiles are designed to provide drivers with exceptional performance, comforts, and reliability.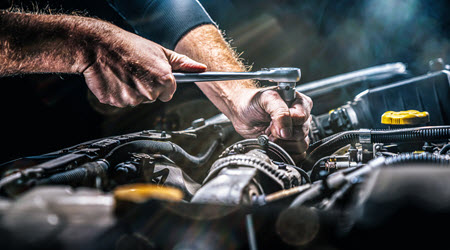 At Momentum Motorworks, we believe you should hold your service and repair shop to the same high standards as your German vehicle. By focusing on German brands including Audi, BMW, Mercedes, and Porsche we are able to provide that top quality service expected.
Our team of ASE Certified Mechanics and Certified Master Technicians offer decades of collective experience in the service and repair in the German automotive industry. We use all OEM parts just as you would receive from the dealership, however, we provide a much more affordable price point. Below are a few amenities we offer to make us stand out against our leading competitors:
same day service
24 hour drop off
after hours pickup
Momentum Motorworks has been serving the community of Birmingham, AL for more than 21 years. We help German automobile drivers of:
We provide a full diagnostic inspection, routine maintenance, engine repair, check engine light service, and transmission repair to name a few. At Momentum Motorworks our goal is to provide customers with a full service experience custom to their specific automotive needs and budget. Our highly trained mechanics are available to answer any questions you may have, so give us a call today!