BMWs can experience electronic system issues for many reasons. There are several signs to alert you that something is malfunctioning within your vehicle. Below we discuss some common causes and what to look for to keep your BMW running as designed.
Battery Problems
The electrical system is a closed circuit with its power source, i.e., the battery. When you start your car, the battery is what feeds the power through to the starter which in turn starts your vehicle when you turn the ignition key.
Some signs to alert you that your BMW may have a dead battery:
Loose or corroded connections
Problems getting or holding a charge
Needing more power than the alternator can provide
Your engine will not start
There is no "clicking" noise when you turn the ignition key
Bad Alternator
Your BMW's alternator is responsible for converting mechanical energy into electrical energy through an alternating current. There are a multitude of signs that the alternator in your BMW is failing. These include:
A dashboard warning light, ALT, will be illuminated
Engine stalling
Difficulty starting your BMW
Your electronic systems, such as your radio and navigation systems, may not be functioning properly
Dimmed or flickering headlights, as they require a power source to work
Power window failure
Common Causes of a Bad Alternator
Your alternator turns mechanical energy into electrical energy, hence the name: alternator. It supplies the battery with the charge to keep your electrical components operational. If your alternator fails, the below components could be the problem:
Failing diodes: An alternator has three power levels, and each power level has a pair of diodes. When these begin to fail, you will notice reduced power to your vehicle. If all three pairs fail, you will no longer be able to activate the electrical functions of your BMW.
Defective Bearings: With defective bearings, you will begin to hear a loud rumbling noise from under the hood, similar to metal rubbing together. If you find yourself needing the bearings replaced, it is recommended to replace the alternator as well.
Worn Belt: If the belt appears loose, glossy, or worn, it is time to replace it.
Insufficient Field Voltage: An alternator requires 12 volts to produce electricity effectively. Any less and your BMW will not function as it should.
Failed Spark Plugs
Spark plugs deliver an electric current from the ignition system to the combustion chamber to ignite the compressed air/fuel mixture by an electric spark. Common signs of one or more failed spark plugs include:
A knocking noise
Your engine is difficult to start
Poor fuel economy
Engine misfire
Engine backfire
Spark plugs are a key part of the starting of your BMW. So, when one or more fail, you want to know why this occurred in order to prevent it from happening again.
Overheating: When the cooling system within your engine does not function properly, it begins to overheat. The heat spreads to the tip of the spark plug, causing them to fail.
Bad fuel filter: A bad or dirty fuel filter can cause the tip of the spark plug to become dirty and oily, resulting in damage to the plug.
Wet spark plugs: A steady flow of oil into the combustion chamber is one of the most common causes of damaged spark plugs. The oil builds up on the tip of the spark plug and leaves it unable to fire.
It is recommended to have your spark plugs replaced every 60,000 miles to ensure proper working conditions.
Momentum Motorworks for Your BMW
At Momentum Motorworks, we believe drivers should hold their mechanics to the same high standards as their cars.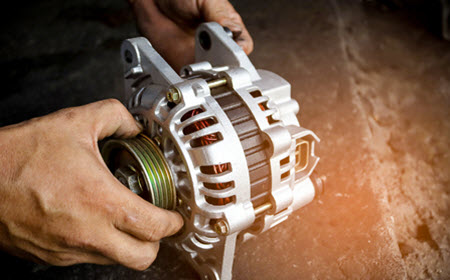 Our auto shop is in Birmingham, AL, and we serve German vehicle drivers of Alabaster, Homewood, Helena, Hoover, Mountain Brook, and Vestavia, AL.
With over 21 years in business, we are staffed with the highest trained mechanics & technicians. Our team is staffed with 5 Certified Master Technicians, 2 premier Porsche technicians, and all our mechanics are ASE certified.
We offer many services including, but not limited to battery replacement, lubrication services, transmission and suspension repair, check engine light maintenance, diagnostic inspection, preventative maintenance, and many other services and repairs. Our state-of-the-art equipment helps us provide you with quick diagnostic results regardless of the problem that has arisen. Do not wait for a problem to progress where it leaves you stranded. Call today to schedule your appointment.
* BMW Car image credit goes to: ByoungJoo.