Realizing that your car is not functioning properly can be a frustrating discovery. However, being able to identify and repair the issue is essential for extending a car's lifetime. This can be especially true of BMWs, due to the drawbacks that come with the BMW ignition coil, though this is not the end for a BMW's life. In this article, we will discuss how to identify ignition coil issues, how to prevent the issue from recurring, and where you can go to get a repair in Birmingham.
Ignition Coils in BMWs and How to Identify the Issue
In general, an ignition coil is used to increase the voltage from the battery and creates a spark that ignites the fuel. The BMW line has been using a specific system for years. It places the coils of the ignition in each cylinder of the car. Though this increases performance and fuel efficiency, it has some serious drawbacks that can lead to a damaged or failed ignition coil.
Let's look at a few tell-tale signs that your ignition coil is faulty or has failed:
Check engine light: Whenever this warning light comes on, it generally means it is time to bring your BMW into a shop, and could indicate a problem with the BMW's ignition coils and their ability to function.
Engine misfiring and rough idles: You may notice your car skipping or jerking forward (misfire) or a shaking sensation in the car (idling). These are both indicative of an issue with the ignition coil.
Car won't start: Though this is an obvious sign that there is a problem with your ignition, you should try to identify the issue before getting to this point.
Any indication that your BMW is behaving in a strange way means that it is time to take it into the shop. It is important to catch any mechanical or electrical issue early and handle it quickly. This will ensure that it doesn't progress into more expensive issues later.
Ways to Prevent Future Ignition Coil Issues
Once the repair is behind you, it is important to continue to take care of your BMW. Often, aftermarket replacement coils can withstand more wear and tear. These are less likely to fail so soon after replacement. However, that doesn't mean the same degradation won't happen with mileage as you use your BMW daily.
One of the best ways to avoid failure in the future is to simply take care of car problems the moment they occur, no matter how small. Routine maintenance jobs can keep unnecessary stress off your car and improve the lifetime of your ignition coil. For example, replacing spark plugs at regular intervals can keep them fresh and addressing small oil leaks can prevent expensive repairs.
It is important to know, however, that ignition coil failure in BMWs (and other cars) is inevitable with age and mileage and should not be something to fear. They can be fixed quickly with a routine visit to the shop. When one or multiple of the warning signs comes to your attention, do not hesitate to call for repairs or even just a routine check up to keep your BMW running as smooth as the day you drove it off the lot.
Repair Your Ignition Coil in Birmingham
Momentum Motorworks of Birmingham, Alabama services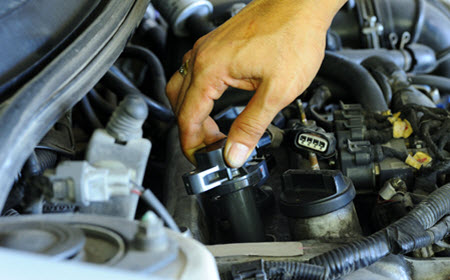 BMW, Mercedes, Audi, and Porsche vehicles. We are certified technicians for BMW engine repairs and diagnostic inspections, so if you notice one of the warning signs above, we are eager to help relieve the stress of car worries. It is important to trust the technicians maintaining your Bimmer.
Though Momentum Motorworks is located in Birmingham, we are dedicated to servicing people in Alabaster, Homewood, Helena, Hoover, Mountain Brook, and Vestavia, AL.
Momentum Motorworks understands how important it is to keep your car in tip-top shape. We look forward to becoming your trusted shop in Birmingham and its nearby areas.