One unique aspect about Mercedes Benz is in its slogan. They provide their customers with the best or nothing, as their slogan rightly states. Like every other mechanical device, the best way to maintain your car is by carrying out routine service. One part of your Mercedes you should always check is the front-end steering.
The front-end steering system is an important part of your Mercedes because it gives you complete control. The steering system uses tightly-connected components, such as tie rod ends, axial rods, arms, and drag linkages which allow for fully-responsive steering.  It is the front-end steering that keeps you on course and helps you to maneuver turns.
Whenever your Mercedes steering feels loose, that is an indication that you need to visit a professional, as a loose steering wheel poses a great danger to the occupants of the vehicle and other users of the road.
How To Know If The Front End Steering Of Your Mercedes Is Loose
An uneven steering wheel could be an indication that your front-end steering is loose.
You may notice more than the usual play in your steering wheel. This means the wheels do not rotate even after the steering wheel has turned more than 1 to 1-½
A tense steering wheel that requires force before it can turn.
Shaking or vibration of your steering wheel is usually the result of a bad tie rod.
Uneven wear of your tires could show that your steering system has a problem.
Squealing or rumbling sound that is only heard when turning speaks volumes about the state of your steering wheel.
It is important to note that not all the above may be caused by loose front-end steering. You can only be sure when you visit a professional mechanic.
Reasons Why The Front End Steering Of Your Mercedes Might Be Loose
The front-end steering of your Mercedes may become loose as a result of any of the following:
Colliding with potholes, curbs, rocks, or other debris could have a negative effect on your steering wheel. Immediately after a collision, you should not be in a hurry to move along. Try to determine if the steering system of your Mercedes has been affected by it. One of such negative effects could be damage to the entire alignment system that could cause a loose or unresponsive front-end steering.
If you are making use of old, uneven, or worn-out tires, you are doing your Mercedes a disservice, as the bad tire can affect the weight distribution and overall alignment of your vehicle. Bad tires put pressure on your linkage sockets and gears and this can lead to loose front-end steering.
Tie rod and linkage wear because of use over time. The tie rods are in charge of moving the wheels of your Mercedes when you turn your steering wheel. A linkage connects the steering box, rack, or pinion to the front steering wheel to the steering column.
Lastly, worn ball joints could cause your Mercedes front end steering to become loose. These ball joints could fail as a result of improper lubrication. A worn-out or damaged joint would no longer be able to hold your Mercedes' tire in place and it would lead to looseness of the steering.
As a Mercedes owner, you should understand your vehicle.  If you notice that your Mercedes is behaving in an unusual manner, it is important you take it to a professional. Don't assume it is a minor problem, let your mechanic run a diagnostic and ascertain what the actual problem is.
Momentum Motorworks Will Fix Your Mercedes Loose Front End Steering
Your Mercedes should be taken to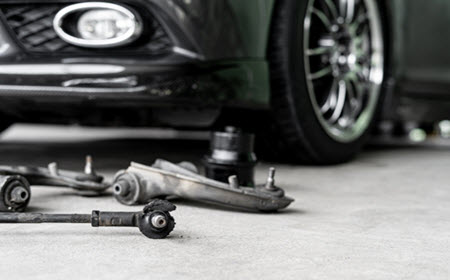 an automobile repair company with expert-level experience in repairing loose front-end steering. At Momentum Motorworks, we use factory-grade tools. We have committed technicians who would ensure your car leaves our garage better than when it came in. We have customers from all over Alabaster, Homewood, Helena, Hoover, Mountain Brook, Vestavia, and Birmingham, AL. You can call us or visit our shop to schedule your next service appointment or learn more about our maintenance programs.